GRC Tutorial
This tutorial introduces the HRH Global Resource Center and demonstrates how to effectively use the collection to find the information for evidence-based decision making and foster learning in human resources for health. For help beyond what is covered in these tutorials, please see the Help page or Contact the GRC team.
Modules
Module 1: Start with this tutorial to learn about the GRC, the resources in the collection and the features available to help you in your work.
Module 2: Learn how to navigate the browsing menus and find resources by subject, geographic area and format. This is the best method of locating resources for those looking for information by topic.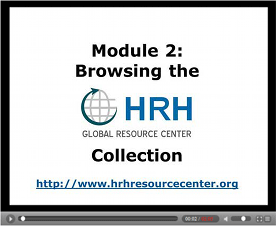 Module 3: Learn how to use the simple and advanced searches to find resources for your individual information needs or to locate specific documents.