Resource Spotlight: First GHWA Forum on Human Resources for Health in Kampala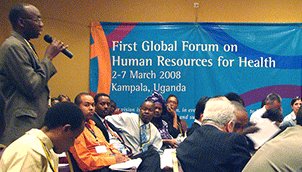 First Forum on Human Resources for Health
The first Global Forum on Human Resources for Health was held in Kampala, Uganda from 2-7 March, 2008. It called for immediate and sustained action to resolve the critical shortage of health workers around the world. Attendees at the Forum endorsed the Kampala Declaration and the Agenda for Global Action. This high profile event was attended by nearly 1500 participants, including donors, experts and ministers of health, education and finance. [from conference website]
Ummuro Adano, HR Systems Advisor for Capacity Project, reported back on some of the sessions including what he rated as the most useful presentation, the plenary session given by Dr. Raja Gupta, Chair of the Global Fund to Fight AIDS, Tuberculosis and Malaria. Some of Dr. Gupta's suggestions for addressing the HRH crisis are to:
Increase the productivity of health workers. This includes better incentives, performance management and professional development;
Increase the over-all effectiveness of the health system in each country from community level to district to regional and national levels, including effective information systems;
Develop strong leadership and management to improve the productivity of health workers and health systems;
Encourage governments to create management and leadership at all levels;
Create new cadres in management and leadership – they are just as important as medical knowledge; and
Demand more accountability in the health sector. [adapted from Ummuro Adano]
The HRH Global Resource Center has more than 25 presentations and resources from this valuable conference such as:
For more presentations from the conference, see the HRH Global Resource Center search or visit the forum website.
Past Resource Spotlights